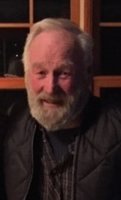 Robert S Daws
Robert S. Daws, 84, passed away at St. Elizabeth Medical Center on February 5, 2019.
He was born on December 11, 1934, a son of the late Elijah "Sam" and Blodwin (Westerman) Daws. Bob served as a Conservation Officer with NYS DEC for 28 years and retired in 1996. He loved to fish and spend time at his camp in Nobleboro with his loyal companion Max. Bob was a member of the Clark Mills Historical Society and was a bottle collector and member of "The Bottle Club". He was featured in the book "Adirondack Hunters & Trappers: Back Then & Now" by Robert Elinskas in the chapter "A Year in the Woods."
He is survived by his son William Daws and his love Barb Mosher, and her children Tyler, Devon, and Alivia; two daughters, Rebecca and Armando Banuelos of Las Vegas, NV and Ann Braun and her love Kevin House of Rockford, IL; grandchildren, Derek and Trinell Guglielmo and Anthony J. Taylor; great-grandchildren, Vincent Wells and Sophia Salas; his dog, Max; many cousins, nieces and nephews; his former wife, Dawn Worden and her family Don and Tara Worden; his former brother-in-law, Marvin Root; and many good friends. Predeceased by his beloved son Bobby in 1968, his brother Thomas and his parents.
All are invited to call Sunday, February 10, 2019 from 1-3pm at Owens-Pavlot & Rogers Funeral Service, Inc., 35 College St., Clinton. A Celebration of his Life will be held at 3pm Sunday following visitation.
Please consider donations in his memory to Clark Mills Historical Society, PO Box 335, Clark Mills, NY 13321.
The family thanks the Doctors, nurses and staff at St. Elizabeth Medical Center ICU & Special Care units for the excellent care given to Bob and his family.