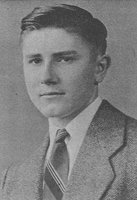 Alan Earl Wadsworth
Alan Wadsworth, age 88, passed away peacefully at St. Luke's Hospital on Wednesday, January 23, 2019. The outstanding care he received from the hospital staff made his last days comfortable and gave comfort and support to his family.
He was born November 1, 1930, a son of the late Albert and Rosetta (Wesseldine) Wadsworth. His grammar school years were attended at the one-room school house in Kirkland. He graduated from Clinton Central School. He married Patricia Urtz June 22, 1957 at St. Mary's Church in Clinton. They shared a devoted union of 62 years.
Alan was a man of few words. He was a dedicated family man who also dearly loved his pets, Bandit and Buffer. He loved working outdoors. As a young boy he would get up before school and milk the cows. He would later work the fields doing whatever needed to be done. In later years, he took great pride in his gardens providing an abundance of vegetables for his family and friends.
Alan served in the US Army and was honorably discharged in 1955. From there he worked at Drop Forge on Halsey Rd. He then joined Chicago Pneumatic Tool as a machinist until his retirement in 1995.
He is survived by his wife, Patricia; daughter, Barbara of Whitestown; two sons and daughters-in-law, Alan David and Rosalie Wadsworth of Richfield Springs and Michael Wadsworth and his life partner Eileen Ie of Los Angeles, CA; daughter-in-law, Irene Wadsworth of Clark Mills; four grandchildren, Lily, Rane, McKenzie and Oliver; greatgrandchildren, Landon and Holden Wadsworth; brother, Merton Wadsworth; sister Kathleen and Russell Hoffman; and many nieces and nephews. He was predeceased by his son, John Wadsworth; brothers, James and Matthew Wadsworth; and sisters, Beverly Wentworth and Jean Burkhart.
All are invited to call Saturday, January 26, 2019 from 2-4pm at Owens-Pavlot & Rogers Funeral Service, Inc, 35 College St., Clinton. A Celebration of his Life will be held at 4pm following visitation. Burial will be in St. Mary's Cemetery in the Spring.
Please consider donation's in Alan's memory to Stevens-Swan Humane Society of Oneida County, 5664 Horatio St., Utica, NY 13502.