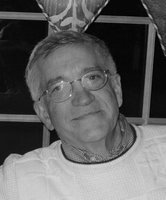 Frank W Scarpino
Frank W. Scarpino, 76, passed away at St. Elizabeth Medical Center on January 22, 2019, with his family by his side.
He was born in Utica on February 20, 1942, a son of the late Frank J. and Angela (Morelle) Scarpino. Frank grew up in Oriskany Falls and graduated from Morrisville College. He served in the United States Army Reserves and was stationed at Fort Dix. On October 3, 1964, he was united in marriage to Barbara Biederman. The couple raised their family in Oriskany Falls, where Frank served as the Assessor, was on the Town of Augusta Zoning Board and served on the Madison School Board for 13 years. He owned EMF Electric, Inc. for many years and had also worked at Bendix and Chicago Pneumatic. Frank put his family first and always looked forward to spending time with all of them, especially his grandchildren. In his free time, he loved to build wooden boats, especially his pride and joy tug boat – "The Silver Fox". He also built wooden toys and gifts for his grandchildren and family.
Frank is survived by his wife, Barb; his three children, Steven Scarpino of Fl, Stacey and Michael Drake of Westmoreland and Michele and Peter McGlynn of NJ; seven grandchildren, Nicholas and Joshua Drake, Matthew, Thomas and Kevin McGlynn and Alonso and Marcello Scarpino; three sisters and brothers-in-law, Lucille and Carmen Pellegrino of Clinton, Patricia and Terry Murphy of FL and MaryAnn and Gary Ford of Deansboro; two sisters-in-law, Bobbie Scarpino of New Hartford and Karen Biederman of Whitesboro; and many special nieces and nephews. He was predeceased by his parents and his brother, Arthur.
A Memorial Mass will be held at 10am Saturday, February 2, 2019 at Church of the Annunciation in Clark Mills. The family will receive guests at 9:30am prior to the service. His burial will be private for the family. Arrangements by Owens-Pavlot & Rogers Funeral Service, Inc., Clinton.
Please consider donations in his memory to cancer research at MPN Research Foundation, 180 N. Michigan Ave., Suite 1870, Chicago, IL 60601.