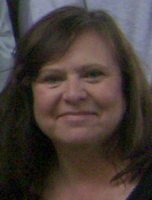 Robin Ettinger
Robin M. Ettinger
Robin M. Ettinger, 57 passed away peacefully on Tuesday, January 8th, 2019 at home surrounded by her family after a long courageous battle with cancer. She was born on September 6th, 1961 to Francis H. and Winifred Rickard Ettinger in Rome Hospital. She was a 1979 graduate of Rome Free Academy, she received her Bachelor of Arts degree from St. Thomas Aquinas in 1997. In May of 1999 a master's in art at Nazareth College.
She worked as an Art Therapist at MVPC and later worked at CNYPC as a Rehab counselor. Robin was a very nurturing person who loved all especially children and animals. She is survived by her siblings Suzanne (Theodore) Mooney, Cheryl (David) Sexton, Nancy Bruce, Kimberly (Gary) Smith, Christopher M. Ettinger, as well as several nieces and nephews, as well as beloved friends Maryann Munney and Cathy Douglas. She was predeceased by her Mother, Father, her brothers Billy and Timmy, her brother in law Dennis Bruce, a niece Alexandria Ettinger, and her goddaughter Ayla Griffith. As well as a special furry friend Nellie.
The family would also express the sincerest gratitude to AmCare Ambulance, Rome Hospital Emergency Room, an all that organized and attended her benefit. Family friends and others whose lives Robin has touched are invited to the Strong-Burns and Sprock Funeral Home 7751 Merrick Road, Rome, NY from 3pm – 6pm on Sunday January 13, 2019 to reminisce, grieve, support each other and of course just chat.
Donations are being accepted for the Rome Humane Society.