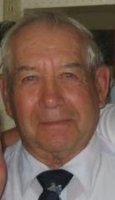 Fredolyn J Zweifel
Fredolyn Jones Zweifel, 88, of Waterville, passed away unexpectedly on January 5, 2019, surrounded by his loving family.
Fredolyn was born to Fred and Naomi Jones Zweifel on March 27, 1930, and was raised in Waterville, New York. He was a graduate of Waterville Central School. On November 4, 1950, he married Sally Eisenhut. During their nearly 65 years of marriage, Fredolyn and Sally worked side by side on the family farm until her passing in 2015. He was most content driving a tractor. He was meticulous about keeping all of his machinery and farms in tiptop shape. The past few years, Fredolyn could be seen mowing lawns and the area roadsides.
Fredolyn was a quiet, but generous man. He was very devoted and proud of his children and grandchildren. He and Sally planned many outings to attend their activities throughout New York State. Music was also a big part of his life. He played the organ, harmonica and accordion. He cared for animals and gave many wounded and orphaned a home.
He is survived by his children, Debbie and David Yablon, Laurie Zweifel, and Richard and Carol Zweifel, and his loving grandchildren, Naomi and Peter (Alanna Nolan) Yaciuk, Christian and Zachary Ashley, and Jacob Zweifel. He is also survived by his sisters-in-law, Joyce Eisenhut, Rosemary Eisenhut and Lois Zweifel, as well as many cousins, nieces, nephews and countless dear friends.
He was predeceased by his parents and brother, Kenneth G. Zweifel.
The family would like to extend a special thanks to all the first responders and everyone who assisted in his time of need as well as Dr. Francis Chabot and Donna Pisiak-Relf.
Calling hours will be held on Thursday, January 10, from 3 PM – 6 PM at Owens-Pavlot & Rogers Funeral Service in Clinton New York. A memorial celebration of Fredolyn's life will take place Friday, January 11, at 11 AM at 411 Tower, Waterville, New York. All are welcome to attend a luncheon reception immediately following the service.
In lieu of flowers, kindly consider donations in Fredolyn's memory to Three Steeples United Church, Paris, New York or Barton Hose Co., Deansboro, NY.