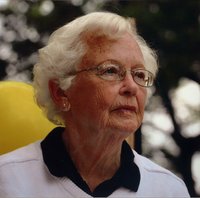 Claire C Burns
Claire Conover Burns passed away on Thursday, December 27th at St. Luke's Healthcare after a wonderful life of 93 years.
She was born on September 13, 1925 in Gloversville, NY the daughter of George F. and Ivy H. Conover. She graduated from Gloversville High School and Oneonta State Teachers College. She began her career teaching first grade at Clinton's Marvin Street School in 1947. In July 1952 she married Clinton businessman Nicholas K. Burns and left teaching to raise their six children on 69 and then 76 College Street. She returned to teaching in 1971 at Clinton Elementary School, retiring in 1992.
Claire loved Clinton where her affection for children was well known throughout the village. She touched the lives of countless kids in her classes and the many friends of her six children and grandchildren with her upbeat, positive attitude and unwavering encouragement to do the right thing. She loved walking through the Village and whenever she came upon a child, especially in a baby carriage, she couldn't help but stop and greet them with a warmhearted smile and cheerful hello.
She started the first Girl Scout troop in Clinton in the late 1950s. She loved her scouts and remembered each one of them fondly well into their adulthood. At the same time she also helped migrant families by going into their homes and tutoring the children during their short stay in the Clinton schools. She assisted the first class of the Clinton A Better Chance Program (ABC) by hosting two of the first students, Derek and Sam, while the program's permanent home was being renovated.
She served on the Village of Clinton Planning Board and organized the Brick Garden Committee for the just formed Clinton Central School Foundation. She also chaired the CCS Foundation's putting contest at its annual golf tournament at the Skenandoa Club. She was a lifetime member of the Skenandoa and former member of the Sadaquada and Yahnundasis Golf Clubs. Claire was a frequent spectator at Clinton High School and Hamilton College hockey games. She always said that the toughest games to watch were the high school games in the early 1980s when her son, Will, was the goalie.
Claire enjoyed bridge and Whist Club with her friends well into her 80s. And she loved attending church services at the Clinton Methodist, Presbyterian, and St. James' Episcopal Churches, where her favorite part was the music.
She is survived by her children Nicholas Jr. (Suzanne) , David (Lisa), Andrew (Julia), Jane (Debi), Carrie (Chris), and Will (Elizabeth), grandchildren Nick (Amy), Jack, Tess (Ahmed), Kate (Ashton), Beverly, Chelsea (Sam), David Jr., Andrew, Owen, Wilton, Rachel, Sydney, Maggie, Benjamin, and Charlie and great granddaughter Vona (who she was lucky enough to see for the first time the day before she passed). She was predeceased by her husband, Nicholas, in 1983 and her sisters Marilyn (Bob) Wille of Canajoharie and Nancy (Dick) Roberts of Holland Patent.
Friends are invited and may call on Friday, January 4 from 4-7 PM at the Owens-Pavlot & Rogers Funeral Service on 35 College Street in Clinton. A funeral service will be celebrated on Saturday, January 5 at 11:00 AM at the St. James' Episcopal Church, 9 Williams St., Clinton, NY.
Claire would be thrilled if donations made in her name were considered for the Hamilton College Town-Gown Fund or the Clinton Arena Improvement Fund. The family thanks the Presbyterian Home and Faxton St. Luke's for their care during her final days. They especially send their love to the wonderful people who cared for her at Brookdale Memory Care in Clinton. We will be forever grateful for your attention, kindness, and love.