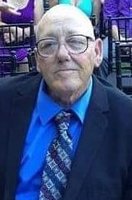 John R Covel
John R Covel, 72, passed away at home with his family by his side on December 3, 2018.
He was born May 9, 1946 in Utica and raised by his parents Amy (Massoud) and Joe Albert. John was part of the South Utica Little League Team that went to the 1958 Little League World Series and was inducted into the Utica Sports Hall of Fame. He retired from NYS after many years at Marcy Psychiatric and Pinefield Treatment Centers. John was a 40-year Life Member of Clark Mills Fire Dept, a member of the Sons of the American Legion Post #26 and past VP of CSEA. He was a big fan of the NY Yankees and NY Rangers and loved to golf and fish. He was a family man, first and foremost, always making sure his kids and grandkids had what they needed.
John is survived by his four children and their spouses, Andy and Jennifer Covel, Daniel and Kelly Covel, Becky Covel and fiancé Jesus Rivera and Bill and Michelle Covel; his grandchildren, AJ, Joey, Ava, Mackenzie, Cameron, Brooke, Lucas, Austin and Ethan; many nieces and nephews; his special friends, Tony Acee & family, Fred Lomanto & family, Dick Pritchard & family, the Clark Mills Fire Dept family, Paul, Joe, Buzz, Ray, John, Daryl, Mike and Dick and so many other friends, family and neighbors who made an impact on his life. Special thanks to the love of his life, Peg Covel for always being there for him. He was predeceased by his parents and his brother Sonny Covel.
Calling hours will be held from 4-7pm Friday, December 7, 2018 at Owens-Pavlot & Rogers Funeral Service, Inc., 35 College St., Clinton. A Celebration of John's Life will follow at 7pm Friday. Private burial will be held for the family.
The Celebration of John's Life will continue from Noon-2pm Saturday at the Clark Mills Fire Dept. – all are invited to attend.
Please consider donations in John's memory to Clark Mills Fire Dept or Hospice & Palliative Care.