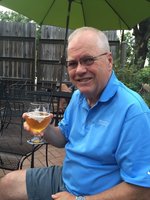 Brian Saville
Brian Saville, 76, of Clinton, passed away Sunday, November 18, 2018 at St. Elizabeth Medical Center.
He was born on September 1, 1942, in Utica, a son of the late Arthur and Edith (Marsden) Saville. He graduated from Whitesboro Schools and proudly served his country in the US Army. On May 17, 1969, he married Ginny Ashley. He was retired from Oneida Ltd. Brian loved getting up early to complete his work so that he could spend the day with his family or watching sports. He was an encyclopedia of knowledge on all sports statistics but he especially loved the NY
Yankees and Syracuse football and basketball.
He is survived by his wife of 49 years, Ginny; his children, Pamela (Kevin) Fitzgerald of Milford, CT and Lisa (Robert) Hughes of Vernon Center, NY; his adored grandchildren, Taylor Hughes, Cody Hughes, Mark Fitzgerald and Sean Fitzgerald; two sisters-in-law, Janet and Louise. He also leaves behind his dog, Maddie. He was predeceased by his older siblings, Kenneth, Dennis, Douglas, Raymond, Donald, Ronald, James, Harry, Enid and Eileen.
The family wants to thank Sally O'Callahan for her care and concern while Brian was ill.
A Celebration of Brian's Life will be held at 7pm Wednesday, November 21, 2018 at Owens-Pavlot & Rogers Funeral Service, Inc., 35 College St., Clinton. All are invited to call Wednesday from 5-7pm prior to the service.
In lieu of flowers, please consider donations to Leukemia & Lymphoma Society or Stevens-Swan Humane Society in Brian's memory.