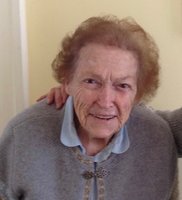 Ann B Clarke
Ann Barry Clarke, 98, of Clinton and Barneveld, NY, died Saturday, November 17, 2018.
Born on October 9, 1920 in West Hartford, CT, and raised in Bronxville, Ann moved to Utica with her parents in 1937. After stints at Katharine Gibbs in Boston, and advertising jobs in NYC, she married Brian (Boru) Warner Clarke, Jr. in 1952. They moved to Greenwich, CT, where together with her mother Marcelite Farris Barry, they raised their four daughters. The family moved to Clinton in 1980. Ann was predeceased by her parents, her husband and her daughter Phoebe. She is survived by her daughters Ann Jr., Cathy and Meg, grandchildren JB Rinaldi (wife Megan), Amy and Marley Silverman and great-granddaughters Siena and Kora. Nieces and nephews, friends and relatives were always eager to visit Ann, particularly during this last year, for companionship, news, good advice, levity and encouragement.
There are no calling hours. Funeral services will be on Wednesday, November 21, 2018 at 10:30 am at Historic Old St John's Catholic Church, 240 Bleecker St, Utica. In lieu of flowers, please consider a donation to A Better Chance of Clinton, PO Box 139, Clinton, NY 13323.