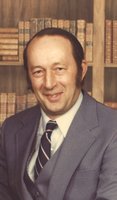 Robert E Huther
Robert E. Huther passed away in Sunrise, FL on November 5, 2018, after 92 good years. He was formerly from Franklin Springs and Clinton.
He was born July 12th, 1926 to Edward and Claire Dibbs Huther in Utica, NY. Bob was educated locally and was a graduate of Waterville High School. On August 29th, 1953, Bob married the love of his life, Elaine Brown Huther. They were inseparable for 34+ years until her untimely passing 30 years ago. He carried her memory with him until the day he passed. Robert had a great work ethic and spent most of his career as a dedicated route salesman, notably for Split Rock Beverages, Franklin Springs; Muller's Dairy, Whitesboro; Table Talk Pies, and Abilene Chemicals, Clinton.
Bob loved sports and was competitive at every sport he played. He was an accomplished bowler, golfer and billiards player, and golfed daily into his mid-80's. He made many valued friends through those sports. His greatest love was for his family. He was a quiet, thoughtful man who could be counted on to give sound advice and unending friendship. He cared about and followed each of his sons' lives and was always there for them.
Robert is survived by a brother, Donald of Arizona; four sons, William (Julie) of Clinton, Robert (Virginia) of Clinton, Michael (Sara) of Sunrise, FL, and Mark of Greensboro, NC. He leaves five grandchildren, William Jr (Christie), Andrew (Katie), Ashley (Ricardo), Michael Jr and Jamie; five great-grandchildren, Logan, Dylan, Allie, Ricardo Jr, and Aria. He was predeceased by his parents, Claire and Edward; his wife, Elaine; and his older brother, William, who was killed in action during WWII.
All are invited to call Friday, November 30, 2018 from 5-7pm at Owens-Pavlot & Rogers Funeral Service, Inc., 35 College St., Clinton. A Memorial Service will follow at 7pm, officiated by Fr. John Croghan. Burial will be in Glenside Cemetery.
Please consider donations to Clinton Fire Dept in Bob's memory.