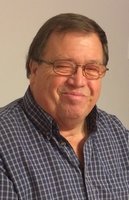 Shane L Armstrong
Shane L. Armstrong, 55, passed away with his family by his side at Strong Memorial Hospital on November 7, 2018.
Shane was born August 11, 1963 in New Hartford and was raised by his parents Drinda and Richard Pritchard in West Utica. The Boys Club in West Utica was an important part of his life growing up. Shane was a kind-hearted, gentle man who accepted people for who they are. He had a strong faith in God and was a member of St. Mary's Church in Clinton and had been a member of the Knights of Columbus Council #189. He loved his neighbors at the Clinton Manor and enjoyed walking through the village and partaking in all the Village had to offer. He was a loving son, brother and uncle and looked forward to gathering together at the holidays. Shane was a participant in the Heart Run & Walk for over 15 years. He was a past member of the Clark Mills Fire Police and volunteered at the field days.
He is survived by his parents, Drinda and Richard Pritchard of Clark Mills; his two brothers, two sisters and their spouses, Jamie and Howard Madden of New Hartford, James and Donna Armstrong in Whitesboro, Melissa and Daniel Roy of Clinton and Richard Pritchard Jr of Clark Mills; many nieces, nephews, aunts, uncles and cousins; and his special friend, Patti and her dog Cotton. He was predeceased by his grandparents, Daniel and Viola Delaney; grandmother, Angeline Pritchard; father, James Armstrong; and a nephew Daniel Roy Junior.
A Mass of Christian Burial will be celebrated at 9:30am on Tuesday, November 13, 2018 at St. Mary's Church, Marvin St., Clinton with burial to follow at Mt. Olivet Cemetery. All are invited to call Monday from 4-7pm at Owens-Pavlot & Rogers Funeral Service, Inc., 35 College St., Clinton.
The family thanks the Clinton Fire Dept, COCVAC, Dr. Love and staff at St. Elizabeth Medical Center, Mercy Flight and the staff at Strong Memorial Hospital for the wonderful care given to Shane.
Please consider donations to the Country Pantry in memory of Shane.