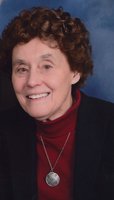 Hermine W. Williams
Hermine Weigel Williams, the daughter of Amedee and Florence Weigel, died on November 7, 2018 at the age of 85 in the Lutheran Care Center. She grew up in Netherwood, an area east of Hyde Park, NY and was educated in the Hyde Park school system. She then attended and graduated from Vassar College. She continued her education there and received an M.A. in music. She completed her education at Columbia University where she received a Ph.D. degree.
In 1956 she married Jay G. Williams and in 1960 they moved to Clinton, NY. She served as organist and choir director in several local churches and taught part-time for many years at Hamilton College. She was prolific writer, publishing eight books and several articles. She spent one semester on a special grant teaching in New Zealand.
She is survived by her brother, Francois; Jay, her husband of 62 years; her four children, Jay III, Lynn, Amedee Daryl, and Ruth; and eight grandchildren.
All are invited to a Memorial Service at the Hamilton College Chapel on Sunday, November 11, 2018 at 2:30pm.