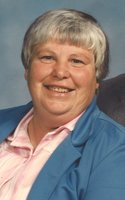 Janette "Peggy" B Chapman
Janette "Peggy" B. (Reals) Chapman
Jamesville/Clinton
Janette Chapman, 85, of Jamesville, died August 24, 2018 at Loretto Health and Rehab in Syracuse, NY.
She was born May 9, 1933 in Syracuse to Paul and Bertha (Streiff) Reals. Peggy graduated from Jamesville High School in 1952. She served in the US Air Force from 1953-56, then worked at Bristol Meyers. On March 28, 1959, she married Carl W. Chapman at the Jamesville Federated Church. They were dairy farmers in Oran and Delphi Falls, then moved to Clinton in 1969, later retiring back to Jamesville in 2008. She shared her life with Carl as a devoted wife, mother, farmer and 4-H leader. Peggy enjoyed being a Clinton Central School bus driver from 1975-96. She loved her family, the farm, gardening, animals, camping, traveling and playing cards. Also Peggy and Carl enjoyed spending time with their dearest friend and loving caregiver, Joan Nicht.
Peggy is survived by her four children: Kurt (Jackie) Chapman, Dunnellon, FL; Pamela (Gary) Zombek, Deansboro; Karl Chapman (Trisha Witchley), Oriskany Falls; Priscilla (James) Heigle, Fern Bay, AUS. Her six grandchildren: Tonya (James) Greer, Gorham, ME; Chad (Becky) Chapman, Dunnellon, FL; Paul Zombek, Schaghticoke; Stephanie (Andrew) Knoeller II, Greenwich; Caitlin & Catherine Heigle, Fern Bay. Her nine great-grandchildren: Wyatt & Jackson Greer; Aaron & Ashley Brace; Drew, Brayden, Adalynn & Scarlett Knoeller; Brooke Witchley, Oriskany Falls. Her brother Harold "Spanky" (Annette) Reals, Jamesville; sister Nancy (David) Freeman, Jamesville; sisters-in-law Helen Reals, Saratoga Springs; Linda Reals, Syracuse; Mary (Chapman) Fritz, IL and many cousins, nieces & nephews.
She was predeceased by her husband, parents, brothers Robert & Russell Reals, brothers-in-law James & Richard Chapman and George Wescott, and sisters-in-law Diana Chapman & Joan Chapman (Wescott).
A dual memorial service will be held at the Jamesville Community Church on October 6, 2018 at 11:30 am for Peggy and Carl, who passed April 21, 2016.