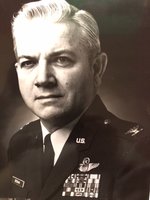 William E. Brennan III, USAF, Ret.
Colonel William E. Brennan, the son of William E. Brennan - owner of Brennan's Shoes in Denville, NJ, and Eleanor Waugh Brennan - school nurse at Valley View High School in Denville, passed away at his home August 9, 2018, after a long illness.
Colonel Brennan was born in Morristown, NJ on September 30, 1938, and graduated from Morris Hills Regional High School in Rockaway, NJ. He held a Bachelor's Degree in Business Administration from Upsala College, East Orange, NJ and a Master's Degree in Human Resources Management from Pepperdine University in California. He was a graduate of Squadron Officer School, Army Command and Staff College, Air War College, Industrial College of the Armed Forces and the Armed Forces Staff College.
Colonel Brennan was a highly decorated Vietnam War command pilot with more than 5,100 flying hours. His decorations include the Silver Star with two oak leaf clusters, the Distinguished Flying Cross with four oak leaf clusters, the Defense Meritorious Service Medal, the Meritorious Service medal with two oak leaf clusters, the Air Medal with seven oak leaf clusters and the Air Force Commendation Medal.
He received his pilot wings in 1961 and flew Strategic Air Command helicopters from 1962 to 1967. During 1967, he was assigned to the 37th Aerospace Rescue and Recovery Squadron (AARS) at Da Nang Air Base, where he flew the HH-3E Jolly Green Giant. Over the following years of service he held various positions including HH-3E instructor at the AARS Training Center at Eglin Air Force Base (AFB), FL; Commander of Detachment 5, 37th ARRS at Malstrom AFB in Montana; faculty member at the Armed Staff College at Norfolk, VA; Deputy Commander for Resource Management at the 509th Bomb Wing, Pease AFP New Hampshire; Deputy Commander for Resources with the 81st Tactical Fighter Wing, Royal Air Force Bentwater, Suffolk, England; and Deputy Commander for Resource Management, 416th Bombardment Wing, Griffiss AFB, NY, before retiring in 1990.
Bill had a lifelong love of aircraft and after his retirement opened and managed with his son, Thomas, Brennan's R/C Hobbies in Vernon, NY.
He is predeceased by his wife, Iola Semmler. He is survived by their son Christopher and his wife Sabine and their children Dylan and Siena of Cumming, Georgia and his stepsons Ted and Michael Shepard of Dayton, Iowa.
He is also survived by his former wife, Frances Shanley Cahalan and their children: Linda of New York City; William of South Hadley, MA; and Thomas of Vernon, NY and his two children Anthony, who is now in the Reserve Officer Training Corp (ROTC) at RIT, and Alexis. He also leaves behind his brother, James and his wife Judy of Galloway, NJ.
Private services will be held for the family.