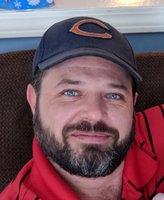 Austin Michael Dee
Austin Michael Dee, 41, passed away unexpectedly with his family by his side on Saturday, July 28, 2018, due to heart complications.
He leaves his parents, Mark and Sharon DeLong of Westmoreland; his birth father, Alan Dee of Utica; and grandmother, Carmela Dee of Florida. Austin leaves three daughters, Alexandria and her boyfriend Zach Merritt, Juliana and Madison of Westmoreland; and their mother, Jill Aceto of Whitesboro. He is also survived by his brothers, Alan of Westmoreland, Jason and his wife Becky of Westmoreland, and Darren and his wife Cheryl and their soon to be born son, of Boston; and two half-brothers, Adam and Mathew of Utica; nieces, Ashley and Alyssa of Indiana and Marissa and Samantha of Westmoreland; nephews, Jason and Alan, also of Westmoreland, whom he cherished; stepbrothers and stepsisters, Mark and Misty DeLong of FL and Scott and Shannon Watts of Utica; many loving aunts, uncles, cousins and friends, too numerous to name, who will all miss him dearly.
Austin has been employed by The Hartford Insurance since graduating from Utica College. He was an avid camper and hiker and did so almost every weekend with his daughters, who were his life. Austin loved nature and people and would do anything to help both. He will be missed forever by all.
All are invited to call Wednesday, August 1, 2018 from 4-7pm at Owens-Pavlot & Rogers Funeral Service, Inc., 35 College St., Clinton. A Celebration of Austin's Life will be held at 7pm following visitation at the funeral home. The burial will be private.
In lieu of flowers, please donate to a GoFundMe page to support his daughters at https://www.gofundme.com/the-austin-dee-memorial-fund