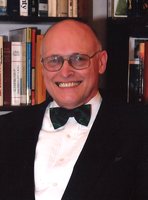 Terry L. Sheldon
Once upon a time, 80 years ago in the small town of Hudson, New York, Mildred and Gerald Sheldon became parents of their second son, Terry.
Four years later, their small family moved from there to the capitol city of Albany, New York. Life was good there even though it was the war years. Both children graduated from the local high school, Terry graduating in 1954. The family moved again, this time without the older brother who remained having started his own family. Their new home was in Utica, New York.
There Terry went to and graduated from Utica College with a Bachelor's degree in Construction Management. Soon after his graduation he married his fairy tale princess, Mary Anne Seeger. He supported his growing family by working in the sheet metal field. For forty-five years, most with Consolidated Sheet Metal Works he worked as engineer, estimator and construction manager.
His story doesn't end there. Something was missing. Even though active in his parish something more was calling him. He enrolled in the Theology extension program from the University of the South in Sewanee, TN and earned his Theology degree there. After seven years of training, a new chapter in his life story began. He was ordained a deacon in the Episcopal Church in 1985 and a priest the following year. He continued his work in the sheet metal industry and began a ministry in local Episcopal Churches. It began in All Saints, Utica and led to serving at St. George's, Chadwicks, St. Mark's, Clark Mills and back to All Saints, Utica. He also served as a visiting chaplain at the Masonic Home from 1987 to 1992. He served, too, at the St. Joseph's Home in Utica.
Terry felt called to aid the community on a wider basis. He was a member of the Diocesan Commission on Aging, helped prepare the guidelines for the Eucharistic Ministry to the Ill and Infirm, and was a member of the Diocesan Foundation Board. He also served on several Cursillo teams.
He served for six years as a member of the Army Reserves and joined the Conan American Legion Post #1000 in Chadwicks. This led to becoming a member of the Military Chaplains Association and becoming a Chaplain in the local Civil Air Patrol where he was awarded the Chaplain of the Year for the New York Wing in 1992. He became an Associate member of the Holy Cross Monastery.
Locally, he served his community by becoming a member of two Chapters of the Order of the Eastern Star where he served as patron several times and where he was selected as the District Grand Lecturer in 1999. He was a member of the Clark Mills Historical Society and had served as their secretary. His interest in history led him to explore his heritage where he discovered links to the Rev. Stephen Batcheler in 1561, a member of the Mayflower and three members of the American Revolutionary War. He joined the Oriskany Battle Chapter Sons of the American Revolution and served as Chaplain, President and, later, was elected as State Chaplain of the Empire State Sons of the American Revolution.
His life would not have been what it was without the loving upbringing by his extended family of his mother and father, his grandparents and aunts. Mary Anne, with her love and support, was a large part of making him who he was. He is survived by Mary Anne; two daughters, Mary Lynn Abbott and Kathleen and Daryl Lonero both of Utica; and his son Stephen of Claremont, NH. The third generation from Mildred and Gerald were five grandchildren and the fourth of four great-granddaughters. He leaves his brother and sister-in-law, Bruce and Joan Sheldon of Valatie, and in-laws, Robert Young and Janet Seeger. He also leaves many nieces and nephews and many friends.
A Celebration of his Life will be held at St. George's Church, 9389 Elm Street, Chadwicks on Wednesday, January 24, 2018 at 11am and interment at Forest Hill Cemetery in Utica. You are invited to call at Owens-Pavlot & Rogers Funeral Service, 35 College St., Clinton from 4-7pm on Tuesday.
Memorial contributions by be made to the Memorial Fund at St. George's in Chadwicks, St. Mark's in Clark Mills, All Saints in Utica or the Healthwellfoundation.org. The family appreciates the Healthwell Foundation's assistance.
Terry's story would not be complete without this passage from the Bible which guided his life through these many years. "God has told you what is good, and what is it that the Lord asks of you? Only to act justly, to love loyally and walk humbly before your God." (Micah 6:8).