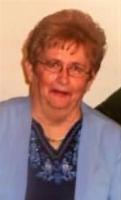 Irene M. Chapple
Irene Chapple, of Utica, NY, formerly of Schenectady NY, died peacefully in her sleep at St. Elizabeth Medical Center on April 5, 2017.
She was predeceased by her 2 children Bobby and Vicky.
She is survived by her brothers Tom and Erv Peek. She is also survived by her children Mike & Mary Chapple, Howard & Diane Chapple, Richard Chapple, Steven Chapple, Joseph & Beverley Chapple, William & Crystal Chapple, Linda & Jeff LaBarge, Anna & Wayne Smith, Bonnie & Glenn Griffith and Gail Leuthauser as well as numerous Grandchildren, Great-Grandchildren and Great-Great Grandchildren. She enjoyed spending time with her family and friends.
Irene has requested a graveside ceremony, which will be held at St. Mary's Cemetery on April 7, 2017 at 3:00 pm.