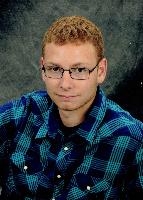 Justin A. Stoffle
Justin A. Stoffle, 20, of Westmoreland, NY passed away unexpectedly on March 23, 2017. He was born at St. Luke's Hospital in Utica, NY on March 7th, 1997, the son of Arthur and Roberta Stoffle. He was a graduate of Westmoreland Central School Class of 2015. He is currently enrolled at MVCC for Cyber Security. Justin loved the New England Patriots and the L.A. Lakers. He also enjoyed playing online video games.
He is survived by his parents Arthur and Roberta Stoffle of Westmoreland, NY; his sister and brother-in-law, Jennifer and John Meiss of Rome, NY; his special four-legged friend Axel; his grandfather and his spouse Jeffrey and Pat Joseph of West Winfield, NY; his Godparents Harold and Patricia Stoffle of Westmoreland, NY; two special cousins who were like brothers, Jeremy and Jonathan Stoffle; and several aunts, uncles and cousins and his best friend David Hilsinger. He is predeceased by his paternal grandparents Arthur and Pauline Stoffle; his maternal grandmother Theresa (Nanny) Olmstead; and his maternal Uncle William Joseph.
Friends and family are invited to calling hours on Saturday April 1st from 2 pm to 5 pm with a service to follow at Owens-Pavlot & Rogers Funeral Service, Inc., 35 College ST., Clinton. In lieu of flowers the family requests donations to be directed to Compassionate Friends of Mohawk Valley, PO Box 493, Whitesboro, NY 13492.