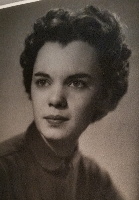 Mary W. Davis
MARY WILCOX DAVIS passed away on 15 March 2017 after battling a long illness. She joined us on the 12th of May 1931 at Tompkins County Memorial Hospital, Ithaca N Y, the younger daughter of Frank and Helen (Broadhead) Wilcox. Mary attended local Ithaca schools, graduating from Ithaca High School with the Class of 1949. She demonstrated an early interest in art and music and enrolled in Ithaca College to pursue those subjects but soon left for employment at Cornell University in the Department of Civil Engineering as Secretary to the Chief of the Structural Engineering Department.
It was during her stint as Secretary that she met her future husband, King Davis, studying for his Master's degree following a tour in the service. It was a whirlwind romance. King proposed on their first date and then again a few weeks later. Mary and King married on a beautiful fall day, 10 September 1955, at the Stone Presbyterian Church in Ithaca NY. After a honeymoon on Cape Cod, they returned to start house-keeping while King started local employment.
Subsequent changes in employment led them to Washington D. C., Boston Mass, and back to New York State and the town of New Hartford. They soon moved to Clinton, having built their own house. Mary and King enjoyed their house immensely and lived there from 1968 until 2005 when they built a new residence in the process of downsizing.
In spite of the disruptive moves Mary became very interested in pressing flowers, leaves and herbs. Arrangements that appealed to her would be laser copied to preserve texture, structure and color. Carefully selected ones would be arranged artistically and framed, then copied and printed on heavy stock so they could serve as personal note cards or retained for use as examples for her lectures to groups on the art of pressed flowers. She had a small business for several years doing custom cards, wedding invitations, and picture frames.
She had a natural sense of color and detail, and over the years produced beautiful arts and crafts that were admired by many. She kept a beautiful home and decorated for all the seasons. She liked to play the piano, and loved to listen to her collection of piano music.
Mary became quite skilled in the game of bridge, buying a number of books to read in order to improve her game. The daily newspaper bridge hand was always a favorite and the topic of household conversation. She played well enough to win a number of prizes and become the president of some local bridge clubs.
She is survived by her husband of 62 years, a son Jeff who lives in Richmond Vermont, and several close friends around the country who became extended members of her family.
We will miss her wisdom and creativity. If you wish, please consider donating to the Clinton Fire Department or Central Oneida County Volunteer Ambulance Corp.