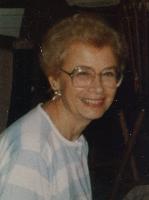 Barbara W. LaConte
Barbara W. LaConte, 86, of Stop Seven Road, passed away peacefully on March 16, 2017.
She was born in Westmoreland on June 11, 1930, the daughter of the late Erick and Sarah (Abbott) Warlick. Barb retired from NY Telephone as an Assistant Manager. She was married to J. Henry "Hank" LaConte on June 27, 1975 at St. Mark's Episcopal Church in Clark Mills. They shared a devoted union of 22 years until his death in 1998. Barb held many memberships including St. Mark's Episcopal Church of Clark Mills and Zion Episcopal Church of Rome, the Telephone Pioneers, Clark Mills Historical Society, Kirkland Cemetery Association and Kirkland Seniors. She was also a volunteer organist at Faxton Hospital and an associate member at St. Jude's Episcopal Church in Orange City, FL where she and Hank enjoyed their winters.
She is survived by her brother and sister-in-law, Erick and Liz Warlick of Whitesboro; brother-in-law William Mahady of Vernon; stepdaughter, Sharlene LaConte; her nieces and nephews, Jerry Smith, Lloyd Smith, Billie Jean Judge, Beverly Warlick, Erick Warlick Jr, Laura Warlick, Jessica Brown and their families; and many cousins. She was predeceased by her husband, two sisters, Dorothy and Gerald Smith and Gertrude Mahady and a niece Debbie Forsythe.
Funeral services will be held at 11am Saturday, March 18, 2017 at Owens-Pavlot & Rogers Funeral Service, Inc., 35 College St., Clinton, NY. All are invited to call Saturday from 10-11am prior to the funeral. Her burial will be in Kirkland Cemetery in the spring.
Please consider donations in Barbara's memory to Stevens-Swan Humane Society of Oneida County, 5664 Horatio St., Utica, NY 13502