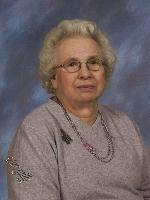 Amy S. Marris
Amy S. Marris, 96, passed away on March 8, 2017, surrounded by her loving family.
She was born in Eaton on January 8, 1921, the daughter of the late John and Mary (Sodar) Sterle. Amy graduated from Morrisville-Eaton Schools as Salutatorian in 1939, where she had been president of the Drama Club and a high scorer of the basketball team. After high school, she was preparing to attend Central Business Institute, but she met and fell in love with Robert Darrell Marris and started her family of ten children instead. Amy was a devoted homemaker, wife, mother, grandmother and neighborhood mom. She only worked outside the home during election days each year, serving on the Town of Marshall Board of Elections for 31 years. Amy and Bob were widely known for their freshly dug and prepared horseradish which they sold at the Deansboro Hotel for many years. Amy is also well-known for her pickles, jellies and canned tomatoes. She continued to make many of her families' favorites even into her 90's. She lived in her own home until last year.
She is survived by her children, Patti Miller and Martin Schieferstine of Westmoreland, Carole Falin and James Meres of Waterville, Linda and Paul Eastman of Deansboro, Ronald Marris and Mary Bikowsky of Oriskany Falls, Bill and Colleen Marris of Deansboro, Allen Marris and Sharon Partridge of Hamilton, Ginny Marris of Sauquoit, Brenda Marris and Matt Mielnick of Clayville and Robert Marris of Yorkville; 23 beloved grandchildren and 19 great-grandchildren; numerous nieces, nephews and in-laws. She was predeceased by her husband "RD", her son Darrell, son-in-law Patrick Falin, granddaughter Jodi Lynne, three brothers and a sister.
All are invited to call Sunday, March 12, 2017 from 1-4pm and stay for her funeral service at 4pm with Rev. Edward Townsend officiating at Owens-Pavlot & Rogers Funeral Service, Inc., 35 College St., Clinton. Her burial will be in Deansboro Cemetery.
The family thanks Dr. Chabot and his staff for their years of compassionate care.
Please consider donations to the Employee Fund at Waterville Residential Care Facility, 220 Tower St., Waterville, NY 13480 in gratitude for the care and kindness shown by the nurses and staff.